Half Cab miniSim
This is our flagship miniSim. A real car halved just behind the front seats. All automobile controls, functions and features are retained. Display options include 180-degree projection screen. As close to real as it gets.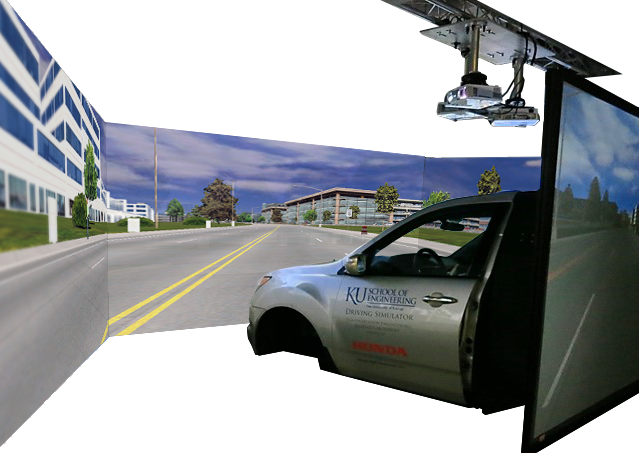 NADS miniSim™ Driving Simulator Description
General Architecture
The driving simulator described in this document represents an advanced, flexible, and reliable driving simulator for the research needs of any high level research facility. The technology contained in the simulator represents over 13 years of simulator software development by the professional staff of the National Advanced Driving Simulator (NADS) located at the University of Iowa, and leverages the software and experience behind the world-renown NADS-1 and NADS-2 simulators and the more recently developed miniSim™ PC-based simulator.


NADS miniSim™ Software and PC
The software delivered with all miniSim simulators consists of the following tools:
The Tile Mosaic Tool (TMT) for assembling a road network from a library of 95 road/landscape segments called 'Tiles'. You use the TMT to connect them together, control LODs, and export a complete database to the ISAT and miniSim. NADS can also create new tiles or modify existing ones to meet your specific needs.
The Interactive Scenario Authoring Tool (ISAT) for building scenarios on the assembled database. The ISAT is windows-based and does not require scripting.
The miniSim runs the scenario on the assembled database and provides both real-time measures and a comprehensive data acquisition file for post-processing in Matlab.
The nDaqTools are NADS-design interfaces for Matlab to define the measures to be calculated, and to organize and control the data reduction process.

The typical miniSim™ PC hardware specification is as follows:
Rackmount PC case
Windows 10 Pro 64-bit OEM
Intel Core i7 3.6GHz 6-Core Processor
2 SSD in RAID (500 Gb ea, 500 Gb usable)
32 GB DDR4 SDRAM
NVIDIA Quadro Pascal P6000 and P2000 GPUs
Note that for this application, the Quadro M6000 and M4000 video cards are used due to the requirements of the warping application.

The minSim electronics are mounted in a 19" rack and include:
NADS miniSim PC
Optional NADS VidCap video capture system
Uninterruptable power supply (UPS)
Audio amplifiers for speakers and Tactile Transducers

Half Cab Simulator
Please refer to the Technical Description for details about the NADS Minisim™ Research Driving Simulator. The miniSim is supplied with vehicle dynamic models for the following vehicles: Ford Taurus, Chevy Malibu, BMW 330i, Ford Excursion (RWD, AWD), Ford F150 (RWD, AWD), and Toyota Venza (with and without ABS and ESC). Each vehicle model is equipped with an appropriate graphic for the LCD dashboard display.
Cab characteristics:
Constructed from a compact car (Mazda 6, etc )
Modified as required to accept NADS active steering loader, pedal loader, and interface electronics.
Mounted on casters and leveling feet
Optional: disassembles to fit through a 36"W x 83"H door opening.
The physical mirrors are retained
Air bag inflators removed
Two front and two rear interior speakers
Two tactile transducers for engine and vibration
Subwoofer mounted in engine bay

Photos of similar cabs:

The cab's electromechanical characteristics are:
Utilizes a 10.1" 16:9 aspect ratio LCD display for instrument cluster
Utilizes industrial quality USB cab interface boards for driver inputs
Industrial Power Strip, 15A, 120V mounted in Firewall Area
The following switch inputs are instrumented

Left/Right Turn Signals
Hazard Switch
Horn
Headlight on/off
High-beam on/off
Wiper on/off
Auxiliary Left/Right momentary buttons on wheel
Seatbelt switch
Parking brake
Ignition 'on' and 'start'. The 'start' is momentary

The Brake pedal retains a modified master cylinder to provide force feedback

miniSim reads fluid pressure transducer signal

The Accelerator pedal is the stock drive by wire pedal

miniSim reads the analog signal directly

The steering wheel angle instrumented with optical encoder (part of steering loader)
The stock audio speaker locations are retained
Subwoofer mounted under hood
Tactile transducers under floor and firewall
Display System
The proposed display system is comprised of the following
Three general options are available:

Cylindrical soft screen of about 10 ft radius
Three flat projection displays with 9ft radius, with 1080p projectors
Three 75" LCD displays, with 1080p projectors

One 116" rear projection screen with projector of 1080p (1920 x 1080) resolution
The miniSim PC will perform the warping/blending using Scalable Desktop from Scalable Display Technologies.
Costs: Half cab miniSim™:
Cost of the half cab miniSim™ varies widely depending on the host vehicle used and the particular configuration desired. Historically average costs have been $279,600 including onsite installation and training. Please call for exact quote.

Shipping:
Customer pays shipping (FOB Iowa City, freight collect)
Schedule:
Half Cab production time is typically 8 months. Lead times are from the date of the Award Activation Notice issued by the Department of Sponsored Programs (DSP).


NOTES:
The option exists for the user to supply some of the parts according to a NADS-supplied shopping list.
Shipping is not included. The customer pays directly for shipping.
Alternative shipping options include:

UPS Parcel Service for Desktop systems.
Simplified and Quarter Cab systems may be moved by Padded Mover. Cost can be advantageous over traditional crating and freight. Contact NADS for details.

Technical specs may change at any time due to hardware changes or availability.