Simplified Cab miniSim
The Simplified Cab miniSim configuration consists of an anodized aluminum chassis with carpet, stationery wheel and pedals, real car seat, plenty of driver controls and multiple display options. Our most popular driving simulator..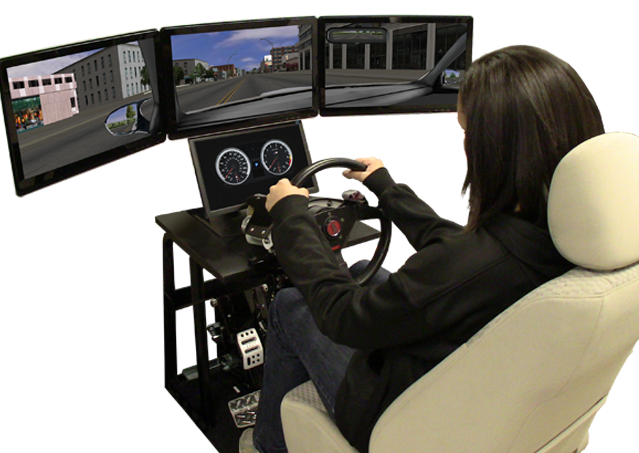 NADS miniSim™ Driving Simulators
The NADS miniSim™ is a PC-based driving simulator. The software and hardware have been developed by NADS to facilitate a wide variety of research applications.
Every effort has been made to build and deliver a high-value, reliable, simulator system. An added benefit is that all the software tools are the same tools used by NADS staff on a daily basis for conducting driving and related research. This ensures a deep knowledge base, ongoing support, and continuous improvement by users who understand your research needs. Our software tools are available at no charge and deliver flexible, high performance simulation technology in any cab configuration.


NADS miniSim™ Software and PC
The software delivered with all miniSim simulators consists of the following tools:
The Tile Mosaic Tool (TMT) for assembling a road network from a library of 95 road/landscape segments called 'Tiles'. You use the TMT to connect them together, control LODs, and export a complete database to the ISAT and miniSim. NADS can also create new tiles or modify existing ones to meet your specific needs.
The Interactive Scenario Authoring Tool (ISAT) for building scenarios on the assembled database. The ISAT is windows-based and does not require scripting.
The miniSim runs the scenario on the assembled database and provides both real-time measures and a comprehensive data acquisition file for post-processing in Matlab.
The nDaqTools are NADS-design interfaces for Matlab to define the measures to be calculated, and to organize and control the data reduction process.

The typical miniSim™ PC hardware specification is as follows:
Tower case
Windows 10 Pro
ASUS ASRock X99X Killer Motherboard
Intel Core i7 3.6GHz 6-Core Processor
2 SSD in RAID (500 Gb ea, 500 Gb usable)
32 GB DDR4 SDRAM
NVidia GeForce GTX 1080 and GTX 1050Ti GPUs
Description: Simplified Cab miniSim™ Driving Simulator
The miniSim Simplified cab is a driving cab with the following features:
NADS miniSim computer loaded and tested prior to shipment
LCD dashboard display for the instrument cluster
Automotive seat
Tilt wheel adjustment
Fanatec Club Sport V2.5 base, Full-Size Leather-Wrapped Wheel, CSR Elite Pedals
Fanatec CSL Elite All-Metal Pedals (Load-Cell Pedal Optional)
6 Wheel buttons that can be used for driver response, look left/right, shoulder check left/right
Labeled buttons for Engine Start, Gear Select, Wipers, Hazard, Mirrors, Headlights, and two Auxiliary Buttons
Tactile transducer and amplifier provides road/engine vibration
A 24" operator display with USB Extension for keyboard and mouse
Software as described in the separate UIRF Software Transfer Agreement:

NADS miniSim™ real-time driving simulation software
NADS ISAT™ scenario authoring tool for creating/modifying scenarios
NADS TMT™ virtual environment authoring tool with 92 sample tiles
NADS nDaqTools and GUI for Matlab to assist in Data Reduction

Tile Mosaic Tool software per the separate Rockwell Collins agreement:

NADS TMT™ virtual environment authoring tool with 92 sample tiles

The following options are available:
Three front 24 inch monitors
Three front 48 inch monitors
Single display (48 inch to 65 inch or more)
Fanatec Load Cell Pedal Upgrade
Standing Desk
ECCI Trackstar 6000 wheel (350mm wheel, 250-deg rotation only, passive spring-damper)
Costs: Simplified Cab:
Simplified Cab miniSim™ - $19,300
Includes:
miniSim Computer - Tower Case
Enhanced Fanatec Wheel and Pedals
Button Boxes
Tilt Wheel Adjustment
Automotive Black Vinyl Seat
Tactile Transducer and Amplifier
18" Instrument Panel Display
2.1 Audio (Front L/R and Subwoofer)
Tactile Transducer and Amplifier

Choose Display Type (choose 1):

(3) 48" LED LCD and Stand - $6,750

15' DVI cables
Matrox Triple Head Adapter

(3) 24" LED LCD and Stand - $3,200

10' DVI Cables
Matrox Triple Head Adapter

(1) 48" LED LCD and Stand - $2,750

Choose Installation and Training (choose 1):

On-Site Installation, 2-days onsite - $13,700

Setup of Simplified and Quarter-Cab Simulators
miniSim and TMT Training on-site
ISAT and nDAQTools remotely

Training at NADS or Remotely - $3,900

Desktop system ONLY
Training remotely via web meeting for miniSim, TMT, nDAQTools, and ISAT

Crating:

Simplified Cab with 3x24" Displays - $2,150
Simplified Cab with 3x48" Displays - $4,000

Shipping:
Customer pays shipping (FOB Iowa City, freight collect)

Options:

NADS Video Capture System (HD SDI Cameras) - $10,600

PC, LCD Display, Keyboard, Mouse
NADS VidCap Software Installed and tested

Fanatec Load Cell Brake Upgrade - $200

For Desktop and Simplified Cab Systems

Button Box - $1,700

For Desktop Systems (incl. in Simplified Cab)

NADS Springfield Road Network - $5,250
Remote Training (ISAT only) - $2,775
Standing Desk - $300
Schedule:
Simplified Cab production time is 12-14 weeks. Lead times for the miniSim Simplified Cab configuration are from the date of the Award Activation Notice issued by the Department of Sponsored Programs (DSP).


NOTES:
The option exists for the user to supply some of the parts according to a NADS-supplied shopping list.
Shipping is not included. The customer pays directly for shipping.
Alternative shipping options include:

UPS Parcel Service for Desktop systems.
Simplified and Quarter Cab systems may be moved by Padded Mover. Cost can be advantageous over traditional crating and freight. Contact NADS for details.

Technical specs may change at any time due to hardware changes or availability.